bobtilden.com
AN UNSETTLING PICTURE
January 30, 2002
---
---
Good luck usually befalls people who carefully prepare to be in the right place at the right time. In my case, I have been in the right place to take some remarkable pictures on my daily sunrise flight from Syracuse to Elmira. In my mind I framed gorgeous pictures of sun, clouds, and peaceful landscapes. Unfortunately though, the camera was home.
This week I was prepared, and kept the camera close at hand while flying. I caught a low sun splashing out from under my wing, against a backdrop of pink clouds below. I caught a peek- a- boo glimpse of wintry farmland through a big hole in the undercast, and I caught the sun hiding behind a distant deck of clouds, coloring the morning vapors below.

These two photos were taken within a few minutes of each other in January of 2001 en route from Syracuse to Elmira. Note how the horizon above the clouds in both of them stretches forever... It is hard to capture the vastness of such a sky with a mere camera. In the lower picture the foreverness of the world above the clouds is contrasted by a peek into the terrestrial world below.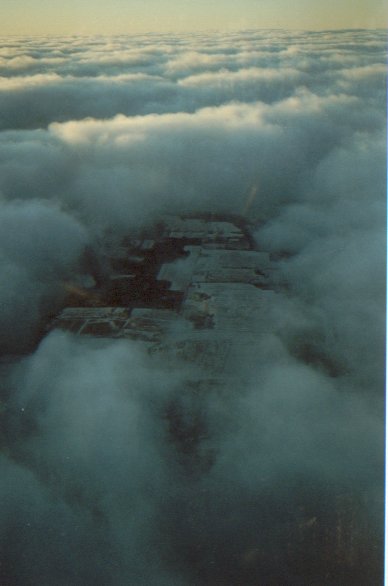 Five mornings a week I fly over the same countryside, but the new weather that comes with each day makes everything different. I have spent enough time around airplanes that I should have built up an immunity to the beauty, but I guess I never will. Last Sunday morning I made a three hour "sunrise" flight in my own plane just to try and catch some of the pictures I have missed over the last few months.
There was some serendipity involved in this scheme. I wanted to have a plausible excuse to go flying, and a photo mission was ample justification. With last weekend's taste of April, I knew that I any flying would have to be done very early, before the runway thawed from the overnight freeze. For quite a while I had wanted to make a sunrise photo flight anyway; how could I turn my back on such a compelling circumstance?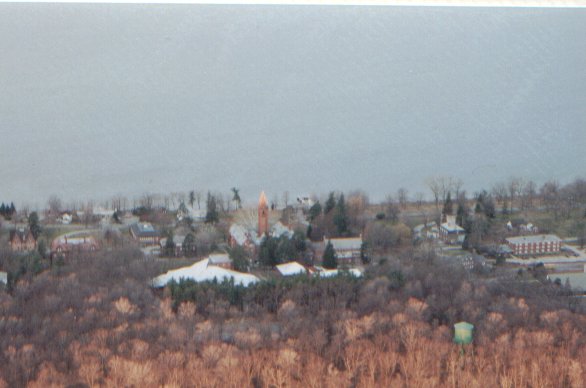 Even though I caught the rising sun just as it cleared the hill and lit the top of the steeple, this is a pretty nondescript picture. The primary subject of this story is mansions and tumbledown farms, but I omitted those pictures; they are, after all, peoples' homes.
My first destination was Aurora, on Cayuga's east shore. I have often noted it from afar, and thought it would be a good sunrise subject. Next up was New Hope, west of Skaneateles Lake, where Bear Swamp Creek comes out of the long cleft in the hills that parallels the south end of the lake. My final destination was outside of my normal range, the wind farm southeast of Syracuse.
If it wasn't for the plate of pancakes, eggs, homefries, and bacon that I found at Weedsport, the trip would have been a flop. I got one nice picture of the sun illuminating the treetops and steeple at Aurora, but the pictures of New Hope were nondescript. The wind farm, an assembly of perhaps two dozen giant wind generators standing on a ridge was impressive, but the pictures looked like mere documentation.
I am not surprised that the pictures were so plain, because I know that great pictures are a fleeting opportunity and cannot be recaptured after the fact. The pictures did no justice to New Hope, and that was my biggest disappointment. I first noticed it on an autumn morning when an inversion layer veiled it in a gossamer of morning haze, but last Sunday provided only drab colors of winter under flat light that filtered through thin high clouds.
There was more, though. As I neared the hamlet, I had been thinking of "tracks". More than just the hundreds of miles of abandoned railroad beds that still can be seen throughout our area, I was thinking of the tracks that previous generations had laid for their descendants. The land had wealth, ordinary people could work their land and make a comfortable living from it. Families raised great barns all over the countryside as investments in this bounty, but today's barn owners usually cannot even fix their roofs. The old barns have been tumbling down for decades.
New Hope tantalized me. It is a mill town situated on a country crossroads. The mill pond is fed from a vast watershed, and even in this dry year, there was plenty of water in the creek. The church still stands, and its steeple reaches skyward. The country stores still stand too, but they aren't stores anymore. Some mill buildings still stand, and they house equipment that is somewhat more modern, but utilize only a fraction of the stream's capacity.
Against all this it seemed such a contrast to view the Gatsbyesque mansion that I noticed east of Cayuga, below Aurora. It sits by itself amidst flat fields, a giant brick "home" with more rooms than I can imagine, exquisitely landscaped with an adjacent two- story garage that is fully as large and ornate as the house itself. The final insult is an artificial pond that was placed in front of the mansion grounds so that the long, neatly groomed driveway could go over a bridge.
The good ol' days, where families needed to start big so that enough children survived, weren't all that great. Even from 3000 feet though something seems unnatural about such a mansion rising on good farmland amidst decaying barns. It seems to me that barns were an asset to the common good, but that such egregiously flamboyant homes are liabilities. Can I guess railroads aren't the only tracks that have been lost?
As a postscript, New Hope is where the pancake mix is made. Part of every bag you buy is used in the struggle to maintain the mill site.
---
Plane Talk Archives
Return to Home Page
E- mail Bob Tilden at rdtilden@yahoo.com