bobtilden.com
HEARTBREAK HILL
April 5, 2001
---
---
A long time ago I wrote a story about a little airport at the end of DuVall Road, on top of the hill east of Beaver Dams. I had parked my plane there for a few days because it is so close to my house, and during that time I had become curious about a thicket of flowering trees and bushes nearby. I walked over and found, as I suspected, that it was an old homesite.
It was a pretty morning, and I took some time to poke around. I studied the remains of the cellar which was laid up of flat stones, and of the area surrounding the house. I found the well, and it was no challenge to see where a barn had once stood. The 1874 county atlas shows this to have been the DuVall farm, and to this day I try to imagine what life was like on that hilltop.
The soil may have been better, in the earlier times before the wind and water carried so much of it away. There is also the matter of it becoming "beaned out", a term the old timers used for land that had become depleted from overuse. Even if it was a Garden of Eden though, it was a long way from anyplace else; that degree of self- reliance is probably illegal today if you have kids with you.
For most of the next century, there were no kids or anything else but hayfields on top of the hill, and the town stopped maintaining the road. It was a very quiet place when I first landed there in the late 1980s, just after Kevin built a pair of runways that intersect right at the top of the hill. There was a timelessness to the warmth of the sun and the breeze against your face. Sitting amidst the tall grasses swishing in the wind and gazing across the distant hilltops, it was hard to tell 1989 from 1889.
Times have changed since my first visit, but not a lot. There is still the same sun and wind, but Kevin and his family now live on the hill and there is a hangar and workshop to accompany the runways. The soil is still the same gummy clay over shallow bedrock that drove the last farm family away penniless, but now that problem is for airplanes rather than farm equipment.
Last fall I moved my airplane from Dundee to this little airport because the drive is so much shorter, even when traffic flows uninterrupted through Watkins Glen. Dundee is one of the world's finest grass airports because its fertile soil lays on a deep bed of gravel. Mud is never a problem, and the grass is healthy and resilient. Kevin's airport might rank as one of the muddiest airports however, and I remember one wet year when it wasn't usable until June. When I made my decision to move, I recall thinking something like "what the heck... If I am "mudded in" in the spring, I will have lots of time to get the plane all fixed up and ready for lots of summertime flights.
The chickens have come to roost, so to speak, and my plane is mudbound as I write this story on an Easter morning that is sunny, warm, and calm. I went up there this morning with enough gas to fill the tanks for a trip that was a bit longer than the usual breakfast run. I wanted to stretch the plane out just a bit, and sort of pretend I was on a summertime odyssey.
I had planned to go to Eddy's Diner in Great Valley, north of Salamanca. It is diner that is deservedly popular with the local folks, and also features a 3000 foot grass runway that is just across the road... Every town should be so accessible! Eddy's is almost a hundred miles each way, a bit farther than I prefer to travel on a breakfast flight, but the trip is always worthwhile.
I had spent quite a while the previous night looking at charts and thinking of places to fly this summer. I ended up thinking about Rantoul Illinois, where I spent the first six months of 1967 in USAF technical school. The old Chanute AFB is now the Rantoul National Aviation Center, a museum featuring aircraft and the history of the air base. It seemed that there was an old airplane displayed on every street corner of the base, and I used to sit in the ample shade of a B-36 and read my mail. I would like to go back and see what is left.
Back to earth though, there was the present reality that my airplane was going nowhere. The ground beneath my feet squished water around my sneakers with each footstep. Some places were better than others, and as I gazed in to a soft spring sky I even considered using the airports long driveway as a runway. I could have fought, and probably won, but I knew that there were easier victories to be had by working through the springtime honey-do list.
I looked at the challenge, considered my chances, and retreated from the hill. By nightfall I had completed many of the springtime yard chores, thrilling my wife with my cooperation and attentiveness. I had shunned battle, brown- nosed the general, and in the end, I was declared a hero.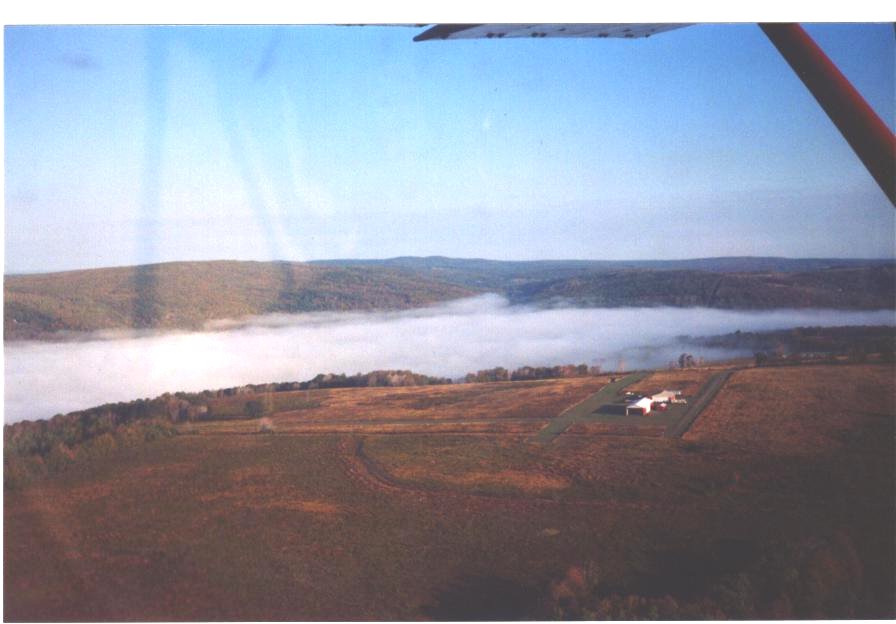 A picture of the airport taken on a better day, at the end of September 2002. It was a sparkling Sunday morning after a cold front, and fog filled all the valleys to the south. This picture, looking northwest, shows how hilltop airports are often islands that stand above our early morning fogs. When I returned to the airport two hours later, the fog still blanketed the "big" airport near Elmira.
---
Plane Talk Archives
Return to Home Page
E- mail Bob Tilden at rdtilden@yahoo.com